Delhi Belly: I Love You, Like I Hate You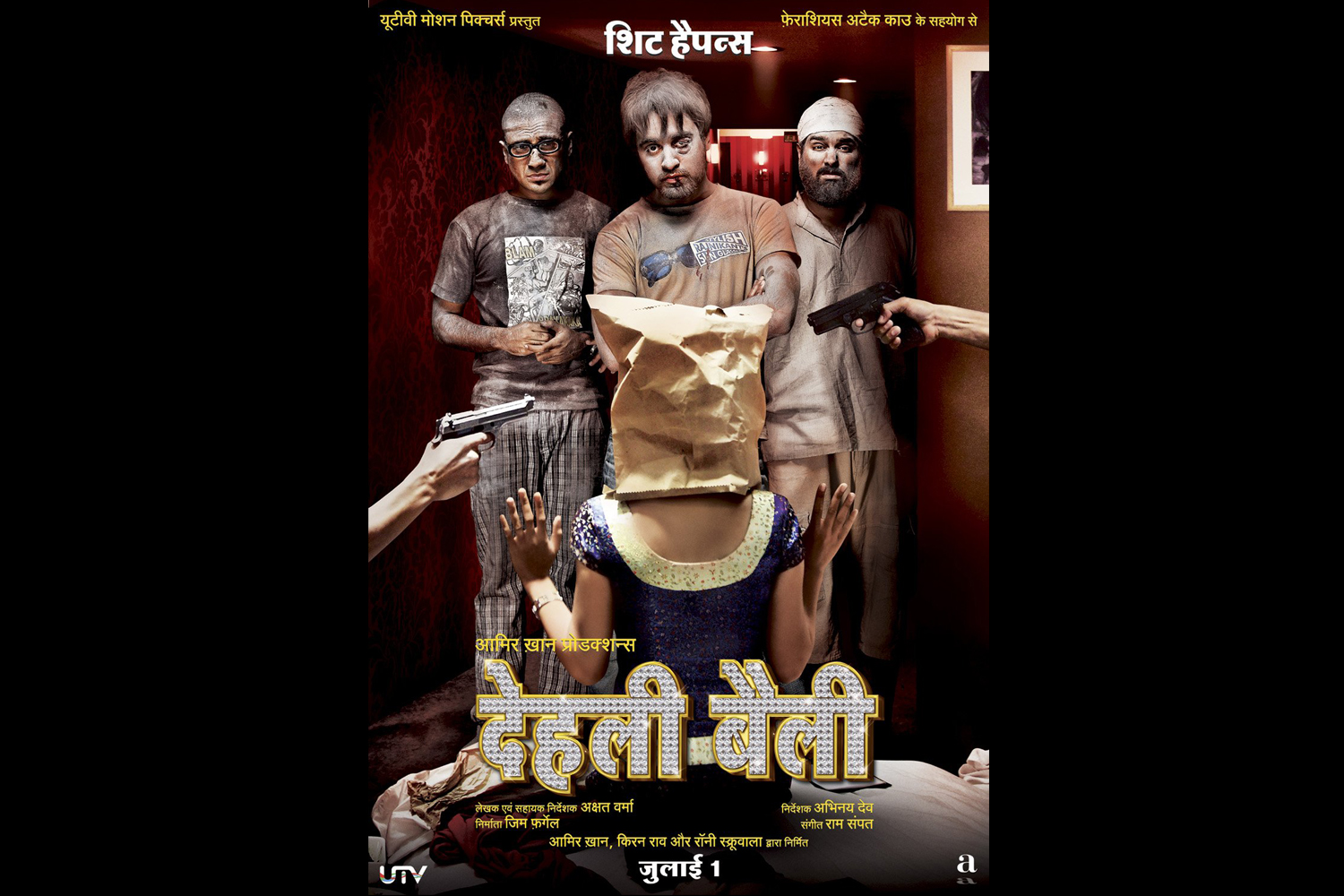 (Disclaimer: The views expressed here are strictly my personal opinions based on my experiences alone, that too in the mentioned time-frame. These are in no way intended to have a popular reflection on anything or anybody. Everyone will differ based on their individual experiences and hence, nothing to be taken personally. It's not to prove anything or anyone right or wrong, just my take on random things. Even I might have a different on certain things in changed times and circumstances. The views strictly represent how I felt, experienced and reacted to something at a particular time.)
All the selected candidates for MICA for our batch were interacting quite frequently prior to the commencement of the program, thanks to the social media. The conversations were extremely funny and amusing at times. A certain Mr. Malpani had already become the prime target of many such group chats. A little sense of camaraderie was beginning to develop among us. A community was slowly growing. Most of us had never seen or met each other in person, yet we were hanging out, enjoying, making friends on social media groups.
During one such discussion, someone (my best guess is Yukti) mentioned that Delhi Belly should be our first batch-movie. The much hyped and much-anticipated movie was talk of the town. The young heart-throb, blue-eyed boy Imran Khan was coming in a new shocking avatar, leaving his chocolate boy image behind. The music was already a big hit. And the DK Bose mania was sweeping all the charts. There was a lot of curiosity and buzz around this movie. It was being touted as the new-age commercial cinema for the ever-abusing youth of this country (really?). The marketing was sharp and top-notch. I was also excited to watch Vir Das in an important role. This guy had me in a laugh riot when I went to watch his amazing (and house-full) stand-up show 'History of India', in Mumbai. Also, the movie was slated to release during our first week at MICA. The timing was perfect. So it was kind of unwritten decision that we will go to watch this movie at the end of our first week on campus, as a batch. Needless to mention, I was so looking forward to it.
The first week was abuzz with a lot of activity on campus. Everything and everybody was so new. It was a heady cocktail of a lot of emotions and actions. And well, the first week is dedicated to The Photo-novela Company, supposed to be a unique way of engaging students in a creative and ice-breaking activity during the initial days of our course. The concept is novel and the intentions are good but what it lacks is a proper execution, and the whole falls flat. We all had fun, agreed. It was good idea to get to know and work with some fellow batch mates, agreed. It was supposed to be a 'creative' exercise (as MICA gets stereotyped for more often than we would want), agreed. But the exercise was a huge let-down for all the promises it showed on paper. Started with a bang and a lot of promise, it just proved to be all hype and no-show. Both the planning and the execution were a complete mess. Everyone kept running around without having much idea about what the hell was happening. We were awake for days and nights, god knows doing what. The rules got changed randomly at whims of people responsible to run the show. In short, it was a huge and first set back at MICA. But in the hindsight also taught a few important lessons, specially about setting the realistic expectations, importance of planning for a smooth execution and most importantly, how a great idea can be ruined at execution table. I initially was toying with the idea to write a whole article for this, but then brushed it off, not wanting to waste any more time on it.
Anyways, I was looking forward to the week to end. So that this craziness would stop and we could have some actual fun (read, Delhi Belly). I had hoped that the batch would plan something and we would have a batch outing sort of thing. The heritage-tour was already cancelled for our batch and we had missed out on going out as a batch already. But as it turned out, things and expectations had started changing drastically as early as at the end of first week itself. People were starting to behave differently. There were already some friend-groups springing up (only to be changed regularly for the next 2 years). Somehow this whole group thing never works for me. I connect with people individually, at more personal level. I like to have a special bond with every one, I decide to get close with. It takes time and effort. It's like nurturing a relationship. I would be great friends with different people of different groups rather be part of a certain group. I don't like being a groupie, being identified with a certain set of people. It feels like a limitation to me. As soon as this group thing starts setting in, I take flight from the scene. I would rather treasure my friends than answering to the demands of a flimsy group. And trust me, doing so is not easy. But that's how it works for me, and I would rather not pretend it in any other way.
So the batch-movie-outing-thingy had already fallen out-of-place and everybody was making their plans separately. Things were changing too fast and reality was striking at every chance. I also had to find a way and company to watch the movie. So, my plan was fixed to go out with Poonam and Ambuj. We hired an auto and left for the afternoon show. The venue was Cinemax Cinema (Red Carpet) at Judge's Bunglow Road. The ticket prices were little on higher side and we thought maybe it would provide for a good movie-watching experience (Red Carpet, hmmm). Well, I never went there again, so you can guess.
The venue was taken over by MICAns. Whether planned or not, it was turning out to be a batch outing, just that no one was acknowledging it. We had reached a little early and hence were just roaming around. At that time, I got a call from someone (I don't recall the name), who claimed to be from Times of India, Ahmedabad office. I was clueless and intrigued. He expressed a desire to interview me over phone and I was obviously surprised. I would be lying if I say, I wasn't flattered a bit. After all, I'm not someone who gets interview requests by a national daily, so often. He told us that our team was touted to win a prize for The Photo-novela activity and he would like to interview me (along with other winners) for that reason, as I was heading the unit. Since, I had some time to kill any ways; I gave my first interview to a TOI representative that day, in the lobby of a cinema hall. Obviously, I was happily surprised and Poonam was jumping with joy and proud  . I began to forgive The Photo-novela for all the hard times it gave me the previous week, and thought, it was all worth it after all (Ah! The traps of a happy mind).
The movie started and we went from the states of laughing, to confusion, aghast-ness, feeling gross, surprise, feeling yuk!, to total perplexed state. Imran Khan did a reasonably good job in his new avatar. His roomie's character was total gross and I guess, Kunal Roy Kapur did a good job with his debut role too. Vir Das was good but not in his best elements. Shenaz Treasurywala was too loud and totally out of place. Poorna Jagannathan was certainly a breath of fresh air with the sharp role and quite nice portrayal of it. Vijay Raj was his usual self, nothing new to his role. Anusha Dandekar's part was completely unnecessary, though I liked the quirk in I hate you like I love you. And last but not the least Aamir Khan, a total waste in his crappy cameo (sorry, Aamir Khan fans). The biggest star (and the only saving grace) was the music, which was rocking all the way, right from Sona Mohapatra's teasing Bedardi Raja to, of course the much-loved DK Bose.

A scene from DK Bose music video
Indian Cinema was finally waking up to Rock music, I thought to myself. Composer Ram Sampath did a fab job with this assignment. The movie was full of crappy jokes, mostly toilet and potty jokes (with literal portrayals). Well, the movie's tagline is "Shit Happens" and they took the phrase literally. It was good in parts but mostly didn't work for me as a whole package. So much anticipation and what a let-down it was. The director seemed completely focused only on flying abuses in our faces, that too without even serving any purpose. It was like a crash course in abusive lingo. I might be able to appreciate it more now but that day, I left the theater with a crappy feeling. I discussed with some more people, and also overheard people discussing the movie and most of it was in sync with my opinion at that time. It lacked the punch, it had so over-promised to pack. Probably, I wasn't yet ready for it, and yes you guessed it right, I hadn't experienced Delhi-life till then.
Not intending to ruin the first outing however, we three ate out, had random fun in our usual teasing manner and tried to forget the movie. And well, I was also looking forward to see my published interview the next day in TOI.
So the next day, we got the third prize for one of our production for The Photo-novela Company. And my interview also got published prominently in TOI's main edition for that day, only that it was no longer mine. The funny part is, my name was nowhere published. I wasn't credited at all for any inputs and I guess other winners were left out too. The piece was mostly a collection of excerpts from the phone interview I had the previous day, and yet, the journalist published it as his own story, only crediting some of the faculty and professors for the exact lines which I had given to him. I was shocked and so was Poonam, because she was with me during the entire interview and knew what had just happened. This was my first real and personal brush with media pretensions of such high level. I was not so shocked at not seeing my name there (obviously, at the time it did hurt a bit though) but by the blatant-ness of lies. I had no way or inclination to prove anything but it really left me with a very bad taste about a publication I had been reading all my life.
And thus, the very happening first week at MICA came to a conclusion. The education, not the classes, had already started for me at least.